Dear friend,
Last Sunday, you turned 20 something. No, it's not cause I don't remember exactly how old you are, but it's because it doesn't even matter at all. What matters more is the fact that you'll be graduating this year and forevermore be apart from me.
After these few months, there won't be any silly trips to Saujana to camwhore, trip to the beach, trip to Giant to work together, trip to your house to watch dramas together, trip to Tze's house with you in the car, trip to the mall here, trip to your room almost everyday, trip to across the campus just cause I wanted to watch Macbeth which we almost fell asleep 10 mins into it and left as soon as there was an intermission, trip to further away across the campus for some flea market thing which I wanted to go so badly too but we left after 2 secs cause all they had were granny used panties wtf, trip to the only party I went to last year, trip to all that clubbing sessions (although only twice wtf)..
Dear best friend,
Do you know that you are the sole reason I'm still alive in this place? You were also the reason why I chose this college. Whoa, two so very important choices in my life; my college and my death wtf.
Sigh, I don't know how things will be in months to come. Who else can I speak to about every single minute details of my life? (aside from your brother of course, you Ooi siblings!) Who else do I turn to when I feel so excited every time I see that cute lesbian (seriously wtf), or who do I go to with all that recent gossip I just heard? Who can I speak Msian accent with? Who will I camwhore with? Who will say "god must have spent a little more time on us" when I ask why are we so pretty and smart? Who can I be so absolutely shameless and honest with?
Dear sister,
Although it's hard to tell who really should be the elder one instead, I really think that I do treat you as my sister. The elder sister I never had, the younger sister whom I will always protect.
Do you know how much we went through together? From enemies who never wanted to say hi to each other, from a humble enemy who called the other up to say sorry (the reason why we are friends today, perhaps?), from a stubborn and shy me who didn't want to hang out with you, from watching Click and The Devil Wears Prada when your brother left, from acting like silly monkeys and ghosts (videos we will never show to the outside world wtf), from missing not one train, but THREE trains together (ah, the Great Trip to Singapore That Never Happened story), from finding two more members to join us in our club, from the long distance relationship we had when you were in Japan, from the great summer we had when you came back, from ALLLL that to who we are today, haven't we been through a hell lot?
To the smallest girl I know
To the girl with the nicest hair
To the girl I couldn't stop staring at since we first met
To the smartest girl I know
To the girl who always makes an effort to patch up after a fight
To the girl with the best sense of humor
To the girl who does the best imitation of a leech
To the girl who still stands strong even though she collects trash for a living
To the girl I can never be mad at
To the girl who means so much to me
To the girl who influenced me in ways she will never know
To my friend, my best friend, my sister, and my princess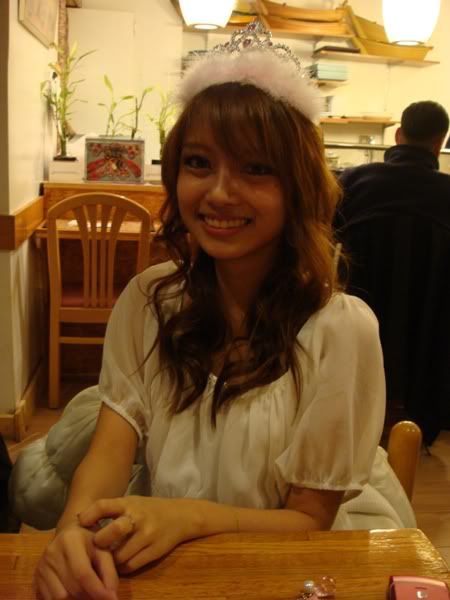 Happy Birthday.