Today I'm going to touch on a subject very dear to me, something that I've been wanting to talk about for ages, something that I think everyone should know about.
Ok before you get your panties up in a bunch, that something actually consists of two things. One of it is slightly serious and will create a big hoohaa in the blogosphere and might give me a big trouble so I'll hold that one first. The other one is super duper serious which I will talk about today.
Today,
I'm going to talk about Moonlight Resonance.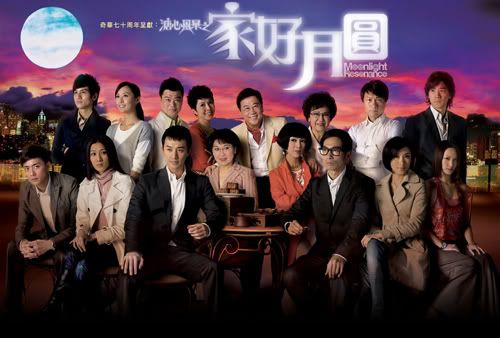 This is the bestest BESTEST super bestest tvb show ever!!!!
If you're watching and waiting for the next episode in bated breath like me, good for you!
If you're not watching it and want to try, download the episodes here! But let me warn you first, it can get very addictive!
Ok let's talk about this drama. I like most of the cast actually and my favorite character is ah yuet (tavia yeung) but after I found out that kun ka zai (raymond lam) can sing, my heart melted and he's my favorite now!
OMG *swoons
I love this song *swoons
I love Raymond *swoons
My favorite scenes so far: **spoilers ahead**
When Ah Hing went for interview and she couldn't speak, kun ka zai spoke for her while she did her signs. Omg I cried here T__T
When Ah Yuet ran away from home and they came and got her back T________T I love Ah Yuet a lot cause everytime she cries then I'll cry also T_T
When Tsau and kun ka zai kissed awwwwwwwwww *swoons
what's your favorite scene?
THE WHOLE SHOW LA BASICALLY I love this show so much! I even went back and rewatched a few episodes while waiting for the new one to come out! I'm waiting for episode 37 can't wait can't wait! I don't want the show to end cause it's so nice =(((
——
I'm currently jobless now sighhhh. I actually found a job but as a ball runner for a soccer game T__T which means I have to stand at the sideline and whenever the ball is kicked out, I have to run after it T___T hahaha actually quite funny wtf. Can you imagine me doing that boohoo and I only got THREE shifts the whole semester!
I really need more hours right now cause I'm going somewhere magical this winter break and I need lotsa money for that!
I applied for a few other jobs but am waiting with my fingers crossed now. Applied for a job as a blogger (YEAH WEI let's hope I get that!!) for the college, a job as the trash woman (whatever will do la beggars can't be choosy) and another job as someone who calls people up to ask for donations wtf.
Wish me luck!!! I really need to start earning money to pay back my ridiculous loan! Let's just hope what's happening with wall street now will not affect my chances to get an internship/job later.
——
Pictures from this week!
This is from a party last weekend. I went cause me and my friend, Giang (the girl with me in this pic!)were gonna help mix the drinks!
Us mixing the drinks behind with Maria who was holding a….you don't wanna know…………..
This is from the day I went to Giang's friend's house for dinner. Here's me camwhoring with the biggest and heaviest camera ever. Ignore my ugly fat face.
Taking picture of me taking picture of myself with the big camera. I'm so good sigh
Giang's friend's cameras.
This one damn old school! Like the thing flips open and you kinda view from the top..
ringu wtf
testing out the flash that's why this pic is bright
taking pic of me taking pic of him wtf
I cooked dinner yesterday! Cause I was already sick of the food here (it has only been a week =( …) and my current dorm has a kitchen! This is my fried rice with all the ingredients stolen from the dining hall..the rice, the chicken, the vege and egg. It was sooo good! (not visually wtf)
Arghhh still waiting impatiently for MR episode 37!!!!!!!!!!!!!!!!!!!!!!!!!!!1
p.s: oh noes i started watching heart of greed while waiting for MR and I think I'm gonna get addicted >.>