Hello! The last installment of the florida trip and a little bit on my christmas week in Boston and I'm done! Today is New Year's Eve but we're stuck here in Mt Holyoke cause there's a huge snow storm outside =(
But it's okay, who you're spending New Year with is more important than where!
Ok, Day 5!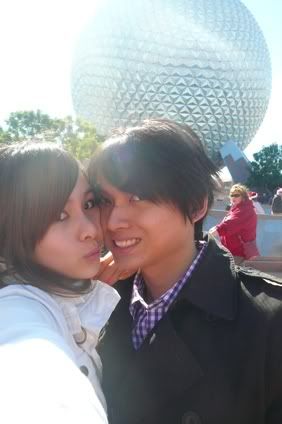 Went to Epcot first! Can you see the big globe behind?
Epcot is one of the 4 disney world parks and is an around the world-themed park where they feature different countries from all over the world.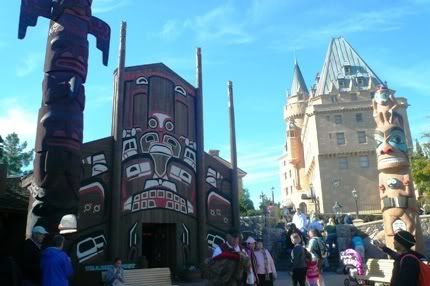 This is New Zealand!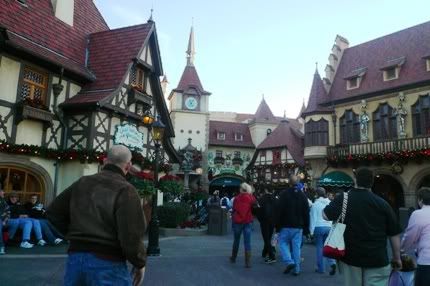 How towns in Germany look like
Barry and I in front of an Ireland-themed house I think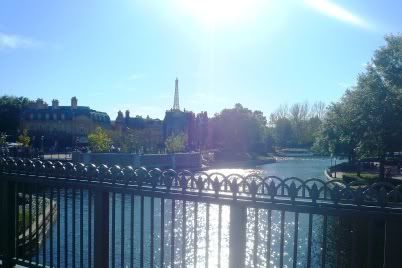 Can you see that? It's the Eiffel Tower!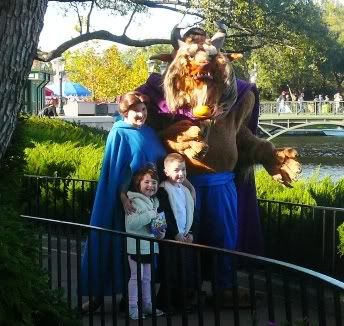 Belle and the Beast!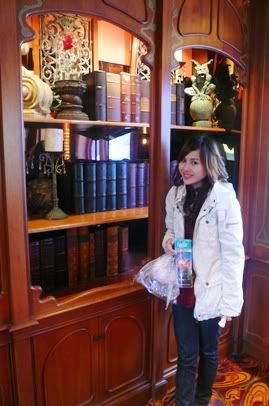 In the Beast's study with the rose!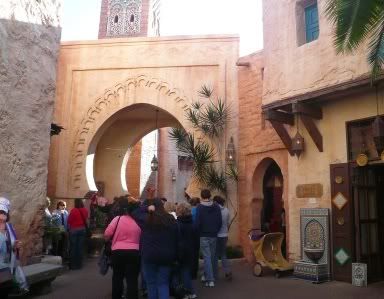 Morocco!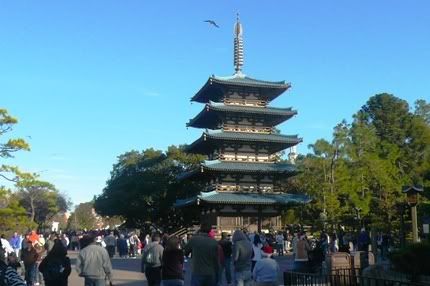 Japan
The store in Japan is the best store ever cause they have allll sorts of Japanese stuff! Hello Kitty stuff, Japanese snacks, Jap clothes, animes, toys, jap everything! We spent like 2 hours inside haha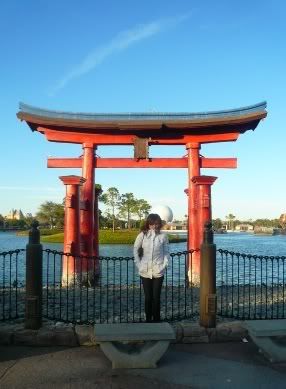 That's the Japanese O-torii gate, it was reallllllly cold that day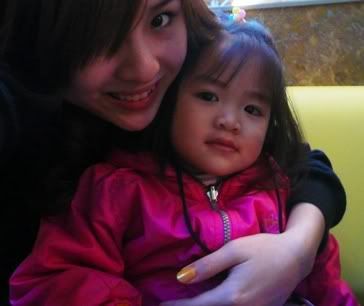 During lunch, we met up with Natasha, her cousins and her aunt. They wanted to go on a ride so I took care of this baby! She was pretty stoned the entire time and just sat there drinking soda wtf. She's a natural camwhore I tell you! I whipped out my camera and she started smiling!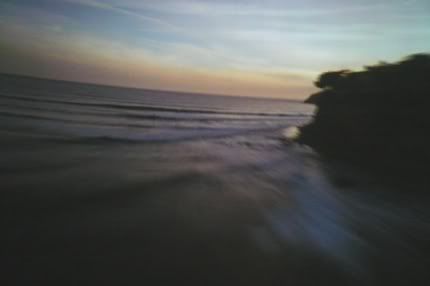 A really cool ride in Epcot where you feel like you're flying! You sit on some chairs and they lift it up and it sways in front of this huge screen with landscapes..sigh i suck at explaining but anyway it felt so real.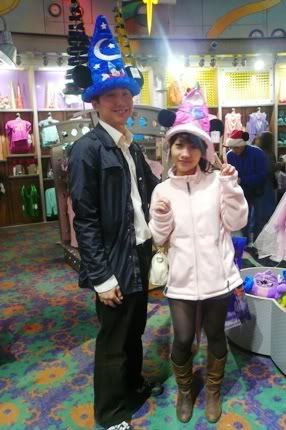 Giang looking cute and her friend
(oh yeah, on the 4th day, Giang came over as well cause she wanted to escape the cold weather! but too bad it was really cold the first day she was here. Seriously it was so cold that we had to keep going into shops every 5 minutes to warm up)
Epcot at night with the fountain. It's not obvious but the water fountain is pretty cool, it dances along with the music!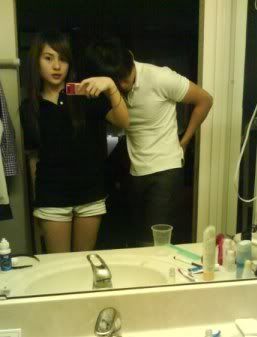 Day 6, we went to Universal again to finish all the rides. I was wearing his black polo and white shorts, and he was wearing white polo and black shorts heh
It was such a bad day for us cause some of our rides broke down!! This was in Jurassic Park and we were about to climb up the slope before the huge fall and everything stopped working! So we had to get down =(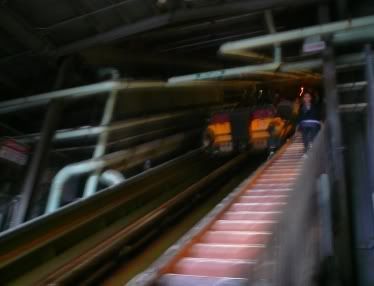 These people were worse! Their ride stopped while climbing up the slope hahaha
On the last day, we went to…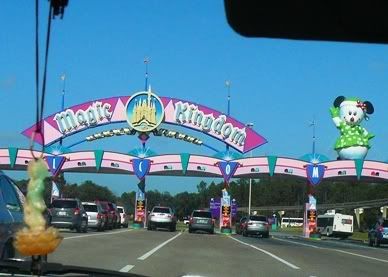 MAGIC KINGDOMMMM! We only went to 2 out of 4 parks cause it was too expensive to go to all 4 so we figured we must go magic kingdom where the castle is!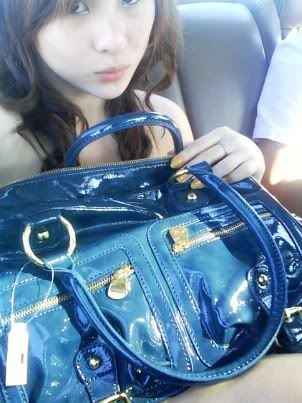 Oh this is the bag I bought from Aldo! I really need a new bag cause my current bag is..a big mess wtf but as much as I liked this bag, I returned it cause I don't think I'll carry it much since it's pretty big. Don't worry, I bought a smaller version so I'm not thaaat stingy..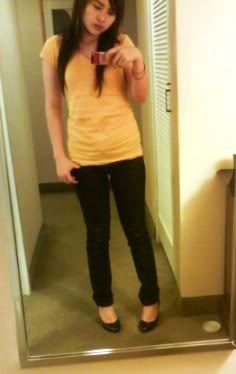 And this is the pair of shoes I bought from Aldo as well, only $18! I wanted to return it too cause it's kinda big for me but I didn't so yays!
Oops stop distracting me!! wtf let's go back to Magic Kingdom. MK is exactly like all the other Disneylands out there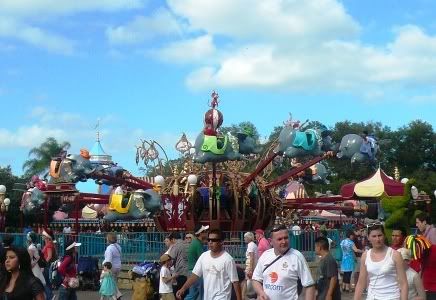 where they have the classic Dumbo ride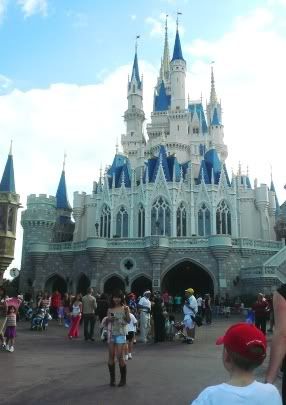 And the castle! That's giang with the castle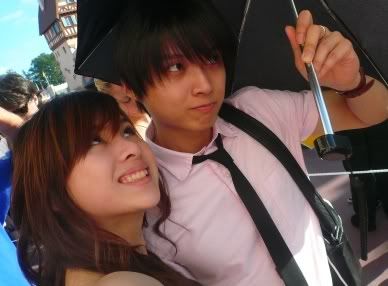 Typical Asians hahaha we were waiting to go on the It's A Small World ride and it was sooo hot so we had to use the umbrella..and people started looking at us as if we were wearing winter coats in summer wtf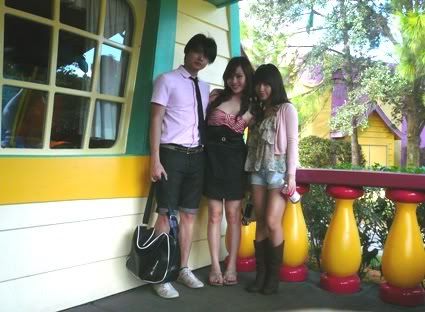 Three of us in front of Mickey's house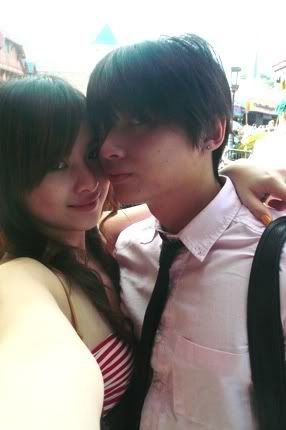 So much waiting just to get on stupid rides! We only went on four rides cause the rides there are all for kids. The 'scariest' ones we went on were space mountain and some railway roller coaster but they only gave us a headache and back pain after that from all that twisting wtf.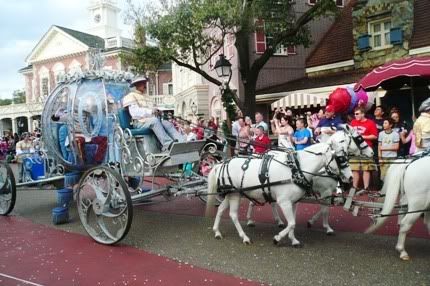 The christmas parade! This is Cinderella's carriage with ponies, so prettyyy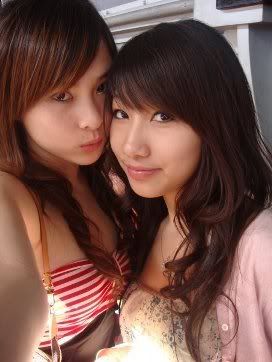 Pretty Giang and I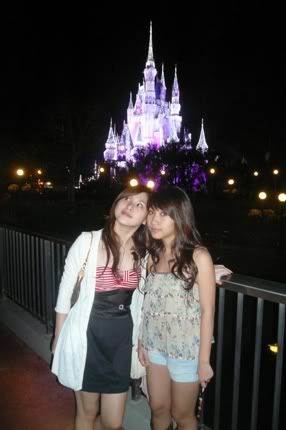 Giang and I with the castle at night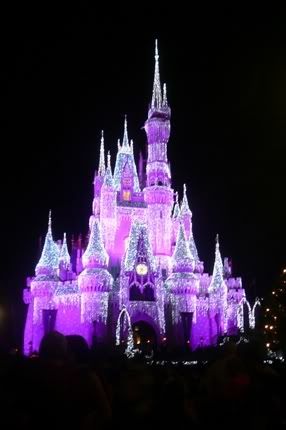 So pretty omg! and it changes every few minutes from sparkly to purple to blue!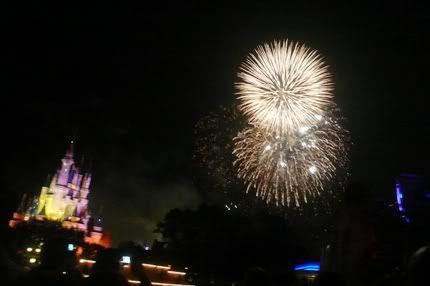 We were on a ride and when we came out the fireworks were already up! So we couldn't get a good view but it was pretty good
Oh yeah, after dinner we found a wheelchair lying around so I sat on it and pretended that I broke my leg wtf so we didn't have to wait to enter rides woot! got special treatment ok they opened doors for us first and we got to sit all the way in front nyeheh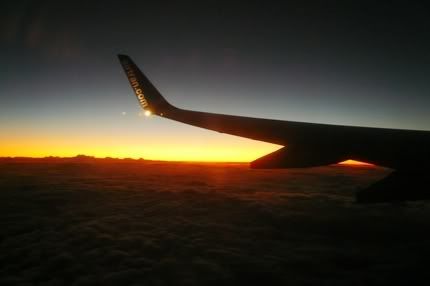 Bye bye Florida, I love you!
And then back to Boston we went. We spent another 4 days in Boston cause we didn't wanna go back to my college and it was really fun going to Chinatown all the time.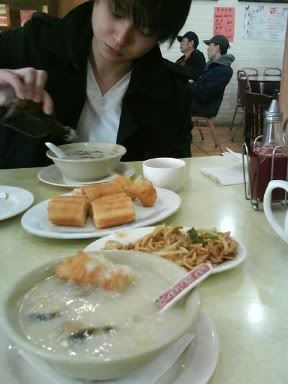 Porridge with yau cha kwai!! mmm
I love Chinatown they have everything! My favorites are all the bakeries!!! Egg tarts (OMG I MISS THAT SO MUCH) and pineapple buns mmmm
OH I HAVE SOMETHING TO SHOW YOU GUYS
I HAVE A NEW HAIRSTYLE
DON'T LAUGH OK
PROMISE?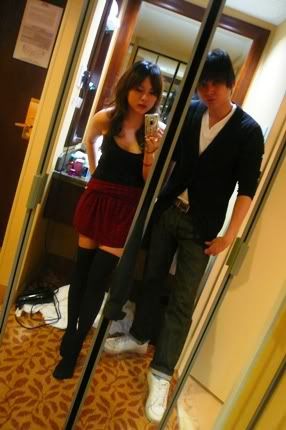 no difference?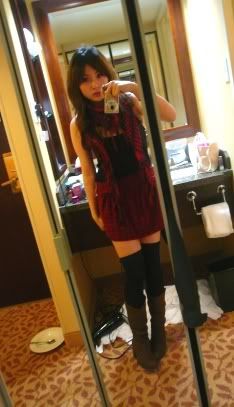 I really like it!!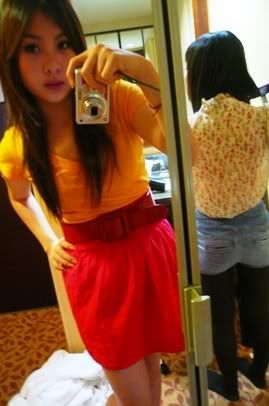 But barry and giang think it's really ugly T____T
One day I woke up and had a reallyyy bad hair day cause of the static. GRR that's why I hate the weather here! I get static on my hair all the time and it's sooo ugly ok to have hair flying all over like when you touch that ball with magnetic dunno what then your hair fly up one
So anyway I changed my parting after 5 years of having side parting. Ya ya no big deal but it is to me ok for someone who almost never changes anything to such an adventurous act of changing her parting wtf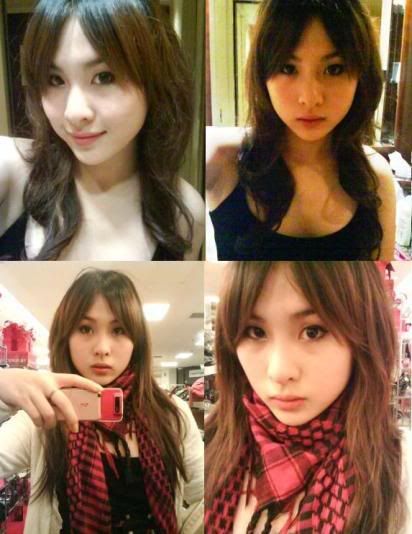 Why very ugly meh! I think it just needs some getting used to. Giang said I look like a village girl wtf. I know Barry secretly thinks so too but he doesn't dare to tell me for fear of receiving a flying kick on his crotch wtf bye bye father's day
wow it's almost 1.5 hours to 2009 but how come I feel like it's still May of 2008 or something! This has been such a wonderful year but I'm looking forward to growing older!
Happy new year everyone!
Thanks for reading my blog and thanks for being such an amazing audience to all my ramblings and vain pictures and silly thoughts. Here's to another year of err..sweatlee.com wtf
=D